---
Featured coin :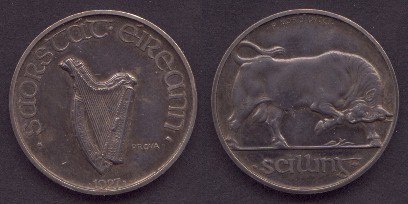 Morbiducci Pattern Shilling in Silver
Select the image or description to read about it.
---
Main Index
These links are to a series of overviews of the coinage of Ireland. They offer further links for ' drill down ' detail and they also offer cross links to the catalogue and the high resolution image pages.
---
Reference links:
Maintenance links :
High Resolution Irish Coin Picture Indices (these pages have many images - they may take a long time to load if you are on a slow link)

Irish Coinage - Web Site Structure Page (this page is primarily to enable me to get to any page from a single point - it may be useful if you know the site quite well)
---
---
If you spot any errors - or want more information on a particular area - or have any general comments on this site please send me an e-mail.
---
SITE HISTORY
This site first appeared on the World Wide Web on 16/Aug/1994 making it one of the oldest coin sites on the Web. I was leading a UNIX support team at the time and was interested in learning HTML soon after it was first developed. I had also just taken the first scans of my coin collection which gave me material for my first HTML trials.
Since then the site has grown considerably with currently over 150 separate pages some of which are very extensive and over 300 images between the in-line images and the high resolution series. In total the site takes about 500 pages of paper to print it out (I haven't tried it all together!) making it a larger reference source of material on Irish coinage than many printed reference books.
So far it is about 30% complete - and several of the completed parts (the catalogues) require regular updating. I estimate the effort involved is about 2,500 hours. The current work rate averages out at about 4hours per week. -- And I wonder why I never have time to complete my book on Edward IV.
I believe that it is a worthwhile effort - (confirmations or contradictions will be treated with equal respect).