(incomplete)
Introduction to The Irish Coinage of John, 1180 to ~1210
The Norman kings of England gradually took over Ireland during the 1170s. John (second son of Henry II) was made Lord of Ireland and struck a coinage of silver halfpennies and farthings in Ireland during the 1180s. These coins were struck in a number of provincial mints as well as in Dublin. During this period John de Courcy set himself up as lord of an area of Eastern Ulster and struck coins in his own name at Carricfergus and Downpatrick.
When he became king John issued silver pennies, halfpennies and farthings from a smaller number of mints ceasing production in about 1210 AD. The primary purpose of this coinage was to drain Ireland of silver (as the coins were of the same standard as the contemporary English coinage) to support the French campaigns of the King. There is significant hoard evidence to suggest that these coins (particularly the pennies) circulated freely in England and in Europe as 'sterlings'. The halfpennies and farthings are more likely to have circulated mostly in Ireland as the English sterling coinage was still mostly dependent on cutting pennies to make halfpennies and farthings at this time. No English round farthings (i.e. struck as farthings not a cut quarter penny) have been found to date and the number of round halfpennies of this period is so small compared with the number of pennies to suggest that the Irish three denomination system was unique in the sterling world at the time.
First 'Profile' Issue (1179)
The first issue of Anglo Irish coins for Ireland was a brief issue of round halfpennies strruck in Dublin by three moneyers. The issue appears to have been associated with John's visit to the island in 1179. John had been recently given the Title 'Lord of Ireland' by his father Henry II and appears to have taken his duties quite seriously. However the primary purpose of many of his subsequent coinages and most especially of his regal issue pence was to provide coining facilities in ireland to enable the silver then in the Lordship to be minted in a form suitable for export.
The first issue featured a profile portrait of John with the legend IOHANNES (or a contracted form) on the obverse. The reverse design was of a central cross with a lis in each angle and the moneyers name around the periphery. There are three recorded moneyers:
RAVL BLUNT, ELIS (Dublin) and ROGER.
Elis's coin are sugned from Dublin but the others are presumably also from Dublin. Though the subsequent coinages eminate from a number of regional mints it is unlikely that these coins were issued from more than one centre - the other likley candidates are Carricfergus or Downpatrick which were under John deCurcy's control.
This coinage has also been attributed to John deCurcy, who ruled an area of Ulster at this time only loosley under John's control, but the Dublin signature on the Elis pieces makes this attribution unlikely.
The surviving specimens of this coinage (of which there are about 8-10) are generally in public collections. Between 3 and 5 examples are in private hands.
The Dominus / Cross Potent Issue, 1190-98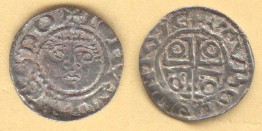 John as Lord - Halfpenny - Type IIa - Turgod - Dublin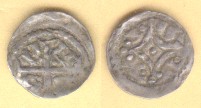 John as Lord - Mascle Farthing - Norman
---
The Dominus / Cross Pommee Issue, 1198-9
---
The Coinage of John de Curcy, 1185-1195
---
The Anonymous Ulster Coinage, 1195-1205
---
The Issue of John as King, 1200-~1210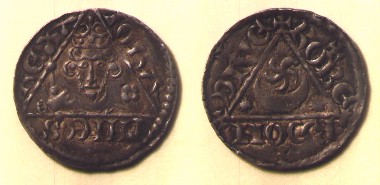 A King John Penny of Dublin (Roberd)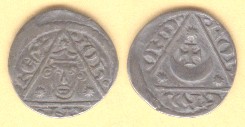 John as King Halfpenny of Dublin - Roberd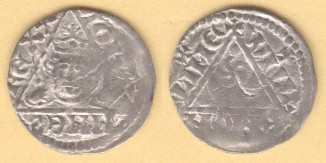 John Penny of Limerick - Willem

---
Bibliography of The Irish Coinage of John, 1180 to ~1210
O'Sullivan, W. "The Earliest Anglo-Irish Coinage" , 1964
Dolley, M. & Seaby, W. "Anglo Irish Coins in the Ulster Museum, Part I, John - Edward III" - SCBI, 1968

---
Index of Images of The Irish Coinage of John, 1180 to ~1210