This coin is a Wood's Halfpenny issued in 1722. This coin is of the first 'harp left' type which was only issued in 1722. Type II was issued betwen 1722 and 1724.
See:
- Wood's Halfpenny Type II - 1723 - no pellet before rev legend
- Wood's Halfpenny Type II - 1724
This coin is in Extremely Fine condition. It has very light wear to the higher points (compare with below) of the design such as George's hair and laurel on the obverse and Hibernia's knees, breast, shoulder and face and the Harp's bow and head on the reverse. However the coin has a very good colour and has excellent surfaces with no porosity or evidence of corrosion.
This is the more difficult of the Wood's types to find. This is a very nice collectable example, especially with its good surface quality and colour. Examples in this condition are somewhat scarce.
---
The example below, from the same dies, is in much better condition - it is almost Uncirculated and has only the lighest of wear on the high points and has beautiful glossy and lustrous surfaces. Exambles as nice as this are scarce.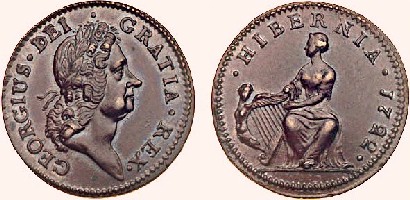 A curious feature of both these coins is that they both have the word 'Wood' engraved in the reverse exergue - they are also both from the same late state of the dies - Note the dots in the obverse field below the R of Rex - these are caused by smalll raised rust spots on the die. Note also the severe breaking of the die around the lettering in the upper left area of the obverse.
The word 'Wood' is probably engraved after striking, but there is a remarkable similarity in positioning and even the slight slant of the lettering which when I first observed it made me consider the possibility of the die having been engraved before striking, but which on close examination of my specimen makes me believe that both coins were engraved after striking by the same hand and at the same time.

Hit your back button to return to the page you came from or select :