This is a commemorative One Pound Coin which was issued on the 50th aniversary of the United Nations.
The coin was struck in the Royal Mint along with a series of similar coins from other countries. The size was choosen to be consistant with the other coins in the series rather than to reflect the size of the circulating pound coin.
This coin was only struck in silver proofs. No base metal examples or circulating examples of the design were struck.
The example above is in Proof FDC (Fleur de Coin). As this coin was only struck in this grade the only examples available will be either in this condition or examples which have been mishandled rather than circulated. The mintage was quite small (as yet no confirmed figure is available)
The coin was issued in a Royal Mint presentation case.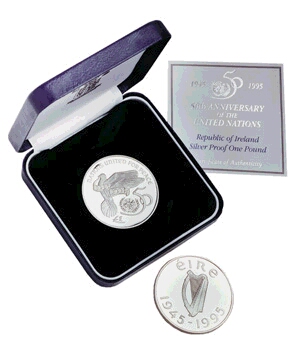 Hit your back button to return to the page you came from or select :