This is a proof striking in Cupro Nickel of the 1990 pound coin.
This coin was issued in 1990 to replace the pound note which had been reduced by inflation to a value where it was necessary to replace it with a coin. By 1989 the pound note was surviving on average about 5 month in circulation.
(The pound note was first issued in Ireland in 1781 by the Bank of Ireland following an Act of parliament authorising paper notes in this denomination - prior to 1781 the smallest note permitted was a five pound note).
The reverse of the coin is a red deer designed by Tom Ryan in the style of the Percy Metcalf designs for the 1928 coinage.
The normal striking of this coin is similar but without the frosted devices and the mirror fields.
The 1990 pound was struck in two distinct mints but there are no simple means of detecting the production of one from the other.
The proof 1990 pound was reissued in 2001 in a packaged set together with an uncirculated example of the last Irish pound note dated 17th July 1989.
The proof striking was issued in a presentation case.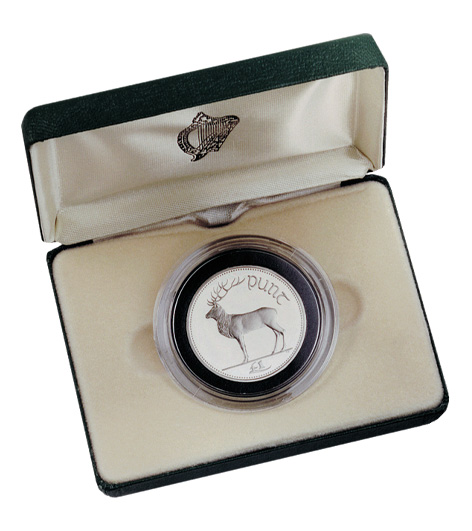 Hit your back button to return to the page you came from or select :