This coin is an example of an Irish Halfpenny of Charles II struck in 1682.
There are two major varieties: Large lettering and small lettering - this is an example of the large lettering variety.
The legends are clear with no blundering and read:
(obverse) CAROLVS II DEI GRATIA
(reverse) MAG BR FRA ET HIB REX
Which translates/expands as
Charles II by the grace of God
King of Great Britain, France and Ireland
The coin is in Good Very Fine (GVF) condition. It has excellent surfaces and only shows signs of wear on the higher points of the bust and harp. The legends are generally strong but there is a bit if weakness at the end of the reverse legend where the tops of the last letters are not fully struck up. Overall this is an excellent example of this coinage.
Examples in this condition are available but scarce - examples in better condition, especially better than EF with original lustre are rare.
Related Coins :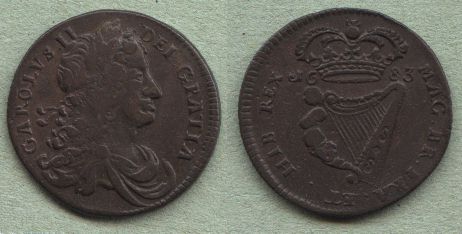 Charles II halfpenny of 1683 - Small Lettering
Hit your back button to return to the page you came from or select :